Eglinton Construction
As you may know, the Eglinton Crosstown Line is currently under construction across Eglinton Avenue. The section of Eglinton Avenue being worked on has now reached an area that will have a direct impact on access to Parkway Honda. In order to help you avoid traffic and possible delays in reaching our location, we would like to make you aware of alternative methods of accessing our parking lot.
These construction delays will most likely continue for the next several weeks, hopefully finishing up sometime in January 2019.
The map below will provide you with directions on how to access Parkway Honda's South entrance from Mobile Drive.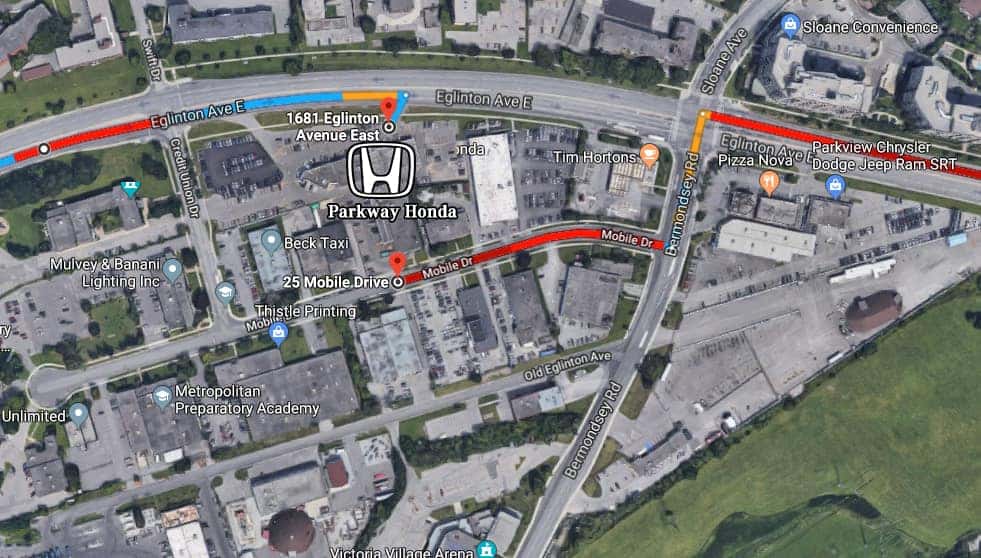 If you are travelling East on Eglinton Avenue, you can still turn right into Parkway Honda's driveway off of Eglinton.
If you are travelling West on Eglinton Avenue: Turn left onto Bermondsey Road. Turn right onto Mobile Drive. Turn right into the parking lot as indicated by the diagram above and the image below.
If you have any questions about these directions, please don't hesitate to contact our Customer Service Team by calling 416-752-6666.